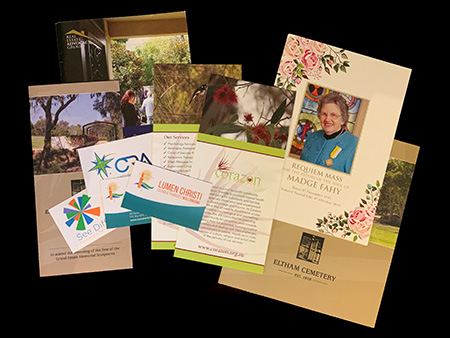 Transformation by Design offers high quality commercial printing at competitive rates. It's all part of our goal to take care of all your print and digital design needs – from concept to completion. We offer our clients a fully integrated, customised print management service.
We continually upgrade our printing equipment to keep pace with the latest technology and to meet the evolving needs of our clients.
With the design and printing done by the same team and at the same location, the whole process is streamlined. That means a faster turnaround and excellent quality control.
The benefit to you is that you get a beautiful product while saving time and money. We work hard to ensure that the finished product is one that we're proud of, so we know you will be too. Simple.
We print everything from business cards to books. Here are just some of the products we print (and of course, we love designing them for you too!)
Business cards
90mm x 55mm
CMYK full colour printing
Durable white artboard 360gsm
Matt laminate both sides
Choice of textures

Marketing material
Brochures & flyers
Posters & banners
Signage
Booklets
Stickers & labels

Business stationery & reports
Letterheads & envelopes
'With Compliments' slips
Appointment cards
Corporate folders
Annual & corporate reports
Some price examples
Business cards
250x = $160 ($0.64 each)
Pull up Banner - Standard
Digitally printed on polypropylene banner paper and supplied assembled with standard silver pull-up stand.
1x = $295 each
2x = $220 each ($440)
3x = $195 each ($585)
4x = $187 each ($748)